2021 IS THE YEAR OF THE UFO AND ARTISTS AROUND THE WORLD ARE DOCUMENTING IT
"Are UFOs visiting us?" Artists of the world show us what they may look like.
June 8, 2021 – 2021 has turned into a year of shocks and surprises. The one that may be most stunning is the U.S. government finally admitting to the existence of UFOs and even revealing some of their eye-opening evidence. With more information in this area set to drop, 2021 has certainly earned the title "Year of the UFO" as more and people wonder out loud, "Are we alone?" In exciting news, a group of renowned artists from all around the globe are attempting to answer that question. 45 artists, to be exact, from 25 countries, united to create over 55 pieces of art that focus on UFOs, Aliens and Area 51. The pieces will be displayed and offered for sale beginning this June, just in time for the expected report on UFOs by the U.S. Government.
"We reached out to artists all across the world and asked them to use their imaginations, talent, and creative abilities to create artwork that might help us all better understand the reports that we are hearing and reading during these historic times," commented Paul Brown, the person behind this art project. "The artists, ranging in age from 16 to 60 and using art styles from anime to voxel, did just that. The pieces, I believe, represent not just a cross-section of the beliefs of the artists involved, but actually also represent the beliefs on this subject from everyday people all over the world. Some of the pieces are technical and beautifully capture the crafts and stories that are in the news today. While others are fun, tongue-in-cheek looks at alien life and culture. And finally, others represent a darker more ominous tone to the situation. For sure they are all amazing though and with today's technology there are even animated versions that show crafts in motion, rescues taking place and takeovers in progress. It is truly a must-see collection of art that represents our World in 2021."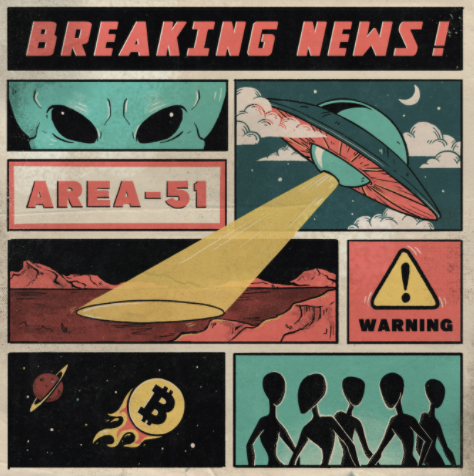 There's no shortage of diverse opinions regarding the UFO footage making its way across the media from official military and other sources. Some think these are examples of new technology being used to spy, or even tech being tried out by our government itself, that is classified to protect its nature.
If not alien craft, the new technology alone which seems at least 100 years ahead of our own is exciting enough.
Perhaps the government report due out in June will answer some or all of these questions. For artists and other creatives, the alien possibility is definitely the most inspiring of them all. This amazing art project is a great way to explore these visions. The images will be displayed and offered for sale shortly. The pieces will be made available in open edition canvas and paper prints and also highly collectible digital NFTs.
Paul summed this up observing, "This is truly a historic moment in the history of the and if there were to be a time capsule for 2021, these images should be in it. We are making them available to individuals in a variety of formats and price points, but are ensuring the collectible nature of these once in a lifetime images."
For more information please contact below.
Media Contact
Company Name: Paul Brown Productions
Contact Person: Paul Brown
Email: pbrown1178@gmail.com
Address:1178 Keene Rd
City: Largo
State: FL 33771
Country: United States
Website: https://bestees.store/